Library information specialist

Professional 1st level higher education study program "Library Science and Information"
Qualification to be acquired: Library information specialist
Code of the study program in accordance with the Latvian Education Classification: 41322
Duration and amount of the study program:  2 years 6 months
80 CP
Type and form of the study program: Part-time, intramural,  2 years 6 months
Admission requirements: General secondary education
The study program provides an opportunity to acquire knowledge and skills corresponding to library science and information science under the guidance of professional lecturers working in the field: the principles of information resource management, provision of library services, information literacy, and other professional study courses are mastered. The knowledge and skills necessary for the organization and management of library work are also provided, for example, project management, personnel management, event organization, digital communication. Thus, students acquire competencies to perform work corresponding to the duties of a library information specialist, as well as to independently organize the work of the library or its structural unit in changing socio-economic conditions.
In order to strengthen the theoretical knowledge in practice, training seminars and practical classes are implemented in libraries and information centers, as well as four work practices. Traineeships are organized in both public and university, school and special libraries, as well as within Erasmus it is possible to implement internships in foreign libraries.
Studies are carried out on a part-time basis, which allows combining studies with full-time work. The study program is implemented as a first-level professional higher education program, after the graduation of which the graduate obtains the qualification "Library Information Specialist" corresponding to the labor market of the library industry.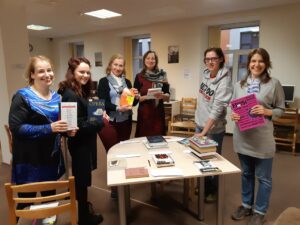 – Cultural Theory and Philosophy
 – Cultural History of Latvia
 – Digital Communication and Social Networks
  – English (professional foreign language)
 – Russian (professional foreign language)
 – Basics of Law and Copyright
 – Basics of Economics
 – Civil Safety and Environmental Protection
 – Social Psychology
 – Methodology of Research
 – History of Books and Libraries
 – Information Sources and Search
 – Information Systems
 – Management of Digital Resources in Memory Institutions
 – Management of Library Work Legislation
 – Management of Information Services and Centres
 – Project Management
 – Management of Human resources
 – Management of Cultural Events
 – Professional Ethics
 – Introduction to Bibliography Science
 – National Bibliography
 – Introduction to Information Literacy
 – Classification
 – Collection Management
 – Information Services for Different Users Groups
 – User Groups – Children and Teenagers
 – Bibliographic Description
 – Study of Local History at Libraries
 – Term Paper
Traineeship
Qualification Paper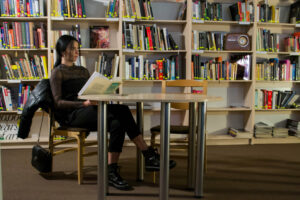 IT IS POSSIBLE FOR LIBRARY EMPLOYEES TO SHORTEN THE STUDY TIME IN THE FIRST LEVEL PROFESSIONAL HIGHER EDUCATION STUDY PROGRAM AND TO STUDY 1.5 – 2 YEARS INSTEAD OF 2.5 YEARS!
Recognition of knowledge, skills and competencies acquired outside formal education or acquired through professional experience, as well as study results achieved in previous education, takes place in accordance with Cabinet Regulation No. 505 of 14 August 2018.
Only in professional study programs it is possible to pass examinations to recognize knowledge, skills and competencies acquired through self-study or professional experience in certain study courses, as well as to recognize study courses of other universities or knowledge acquired in further education programs, professional development education programs.
WHAT TO DO?
1) contact the Study Department of the College and state your wishes;
2) after the conversation, copies of all possible formal and non-formal education documents, CVs, statements on the performance of work duties appropriate to the library sector must be sent to the Study Department;
3) after reviewing them, you will receive information on how many credit points could be equated by taking examinations corresponding to the study courses (in order to study later, you must obtain 20 credit points per semester, for example, one internship is 4 credit points, study course "Local Libraries in Library" – 2 credit points);
4) if a higher education has been obtained in another study program or incomplete studies in a higher education institution, it is possible to simultaneously recognize the study results achieved in the previous education (for example – in the study course "Professional English" – 4 credit points);
5) then a decision must be made and, in case of interest, a reasoned submission must be written, which study courses you want to equate or recognize; *
6) after submitting the application to the Study Department, you will receive information about the examinations with the tasks to be prepared and the date of the examinations; *
7) after passing the examinations, an agreement on the commencement of studies at a later stage of studies (depending on the number of equated credit points) and an individual plan on how to pass those study courses that could not be equated will be concluded.
YOU CAN START STUDIES AT A LATER STAGE OF STUDY DURING THE STUDY YEAR!
* paid service in accordance with the Price list of paid services of the Latvian College of Culture of the Latvian Academy of Sciences.